ABOUT SWC
PROGRAMS
Communities Play-
Match Play-
Where We've Worked-




SWC's COMMUNITIES PLAY PROGRAM

Communities Play is SWC's sports equipment collection and distribution program. The Communities Play program is two-fold:

1) SWC solicits and accepts charitable contributions of new and gently used sports equipment. More info...
2) SWC volunteers distribute the collected equipment to communities, schools, and youth programs in need. Sports skills clinics/training and mentoring programs are also part of the program. The hope and goal is to help facilitate the creation or continuation of self-sustaining sports programs in the communities where we work. More info...

Through a simple application process, communities, schools, and organizations are able to request needed equipment. It is not required that applicants be governmental or recognized entities, incorporated, or nonprofit organizations. Needs assessment and research is also conducted in low-income areas to identify communities, organizations, and schools in need so that equipment can be provided.

SWC's MATCH PLAY PROGRAM

Match Play is SWC's donor-direct-to-beneficiary program. Match Play pairs sports equipment donors directly with schools, organizations, programs in need. Donors may include community groups, individuals, organizations, and schools while the beneficiaries may consist of clubs, programs, organizations, and/or schools in need from around the world that have submitted a formal Equipment Needs Application to SWC. More info coming March 2018...

SWC's BENEFICIARIES LIST (Where we've worked)

Through our Communities Play and Match Play Programs, we have benefitted thousands of children around the world. This is just a partial list of the areas where we've worked. More info...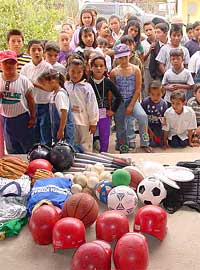 Sports equipment presentation in Agua Escondida, Baja California Sur, Mexico, a colony with no running water.