Since its inception in 1997, SWC has served over 18,500 children (ages 5-18) in the United States, Mexico, Nicaragua, and Uganda by providing them with thousands of pounds of sports equipment, as well as sports skills training and mentoring programs, through its "Communities Play" Program.

Sports for the World's Children Foundation is a California 501(c)(3) nonprofit public benefit corporation.

Our Mission

SWC's mission is:
To provide, through charitable contributions, used and new sports equipment, facilities, and instruction as well as educational materials and supplies to children with limited resources;


To teach and promote, through sports, physical and mental well-being, self-esteem, leadership and teamwork, spirited competition, fairness and respect, and camaraderie and goodwill among communities and countries;


To empower those communities to sustain ongoing sports programs for their children; and


To foster lifelong friendships.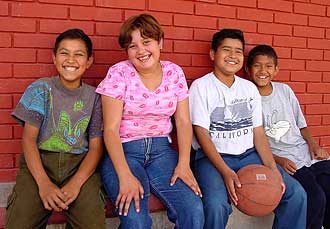 History

The Sports for the World's Children Foundation was inspired by a program started by the Tri State Umpires Association in 1989. This Association, formed in 1984, is an association of registered umpires who umpire baseball and softball games. In 1989, they were invited to La Paz, Baja California Sur, Mexico, to umpire a slow pitch softball tournament with team participants from the United States. During their stay, Tri State members found that the children of La Paz and its surrounding areas did not have softball in their schools. They saw children playing with sticks and pieces of wood as bats and rocks covered with tape as balls. They also noticed that most schools did not have fields or yards large enough to play on. As advocates of the benefits of participating in sports, and knowing that they had the means, they were inspired to help these children.

In 1990, working with many of La Paz's city and state government officials, Tri State began an annual trip to La Paz where volunteers would bring down used (and new) sports equipment, mostly baseball and softball, collected in the United States (from little leagues to benefit tournaments) to give to the kids and schools of La Paz and its surrounding areas. They also began to run skills clinics at the schools where there were fields large enough to play on, teaching basics such as batting, catching, fielding and throwing. The kids loved it and this annual trip has grown every year since. Each year, as more volunteers were recruited, they were able to expand the areas to which they traveled, make follow-up visits to schools to check on their progress, and focus more on specific skills to teach, knowing that they'd be able to return in the future.

Another part of the program started by Tri State is the annual adult friendship and goodwill softball tournament. This tournament typically includes from two to four teams from the U.S. and from four to five teams from La Paz. The children that the volunteer groups visited during the week are invited to attend this free event to 'hang out' with the ballplayers and receive extra batting and/or fielding tips. Every year this event is highly publicized by the media in La Paz. It is during this tournament that the children can witness all aspects of the game. Through this tournament it is demonstrated how all of the basic skills that were taught in the clinics culminate in a TEAM effort. The tournament is meant to teach, practice, and promote spirited competition and teamwork, fairness and respect, and camaraderie and goodwill between people, communities, and countries.

In 1996, a core group of the volunteers decided that to better serve the communities that needed and wanted help, they should incorporate and offer tax-deductions for the contributions they have been receiving as well as to allow soliciting needed funds outright. These funds would then provide the means to transport more equipment to more remote areas as well as to build facilities in areas where they're needed or where none exist, etc.
Thus the Sports for the World's Children Foundation was formed. With its formation, it was resolved to include all types of sports equipment, such as basketball, football, soccer, and volleyball, as well as educational materials and school supplies, such as books, paper, pencils, and pens, to contribute to those communities that need them, locally and abroad.